OVERVIEW
Basam Trade Mentorship on Forex and Synthetic Indices
Our mentoring program is dedicated to individuals who want to improve their knowledge about the financial markets, particularly the Foreign Exchange, Synthetic Indices market, and make online trading their main source of income.
Our tutors always make sure that everyone is carried along as the training is one-on-one training. It means messages, questions, answers, explanations will be sent to students via Direct Messages. Lots of videos that explain everything in detail are also available. 

WHY LEARN WITH BASAM TRADE?
Basam Trade has a groundbreaking testimony in the mentorship of students for years.  Some of our expert tutors have their presence well known for being great traders of Synthetic Indices assets such as Boom, Crash, Volatility Index, Jump Index e.t.c
The Mentorship is fixed on a one-on-one basis so as to keep our students fully prepared to start trading profitably within a very short period of time.
WHO CAN PARTICIPATE?
All regions that support trading the financial market including those that support trading cryptocurrencies.
Age you must fulfill the age requirements for trading in the financial markets set by the regulatory bodies in your respective country.
English you must have a good command of the English language, both written and spoken since all the learning materials and correspondence with us will be carried out in English.
Free time you must be able to spend at least two hours per day in learning and testing.
HOW IS THE EDUCATION ORGANIZED?
You will receive materials in PDF and video format which should guide you through the learning process. We will be conducting online tests to review and cement your knowledge.
There will always be one-on-one interaction via any of our chat room
You will be able to watch live trading sessions to expand your understanding.
We will be answering your questions via live chat, e-mail, or on our forum.
For any arisen problems you will also be able to contact us via telephone.
This only allows people from overseas to enroll in Forex and Synthetic Indices Mentorship program.
Kindly proceed to payment, download the file and follow the instructions accordingly.
Send a message containing proof of payment and your email after a successful purchase.
Check out some testimonies from a few of our students
Mr. Solomon just came across our details online and he took the bold step by enrolling for the mentorship. He quickly absorbed and in the space of a week due to the simplicity of the explanation he started practicing immediately and the rest is testimony from there onward. The last time one of our tutors checked upon him he was still basking and rejoicing that he taught a friend our method of trading and both of them are still doing well.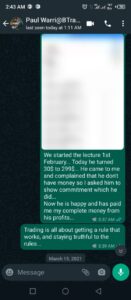 Mr. Paul, a plumber who was looking for a way to start making more money came across our program online due to the plea and the sincerity of the personality he was using to communicate he was mentored at half price which he completed upon his first profit. He was able to convert $30 to $290 in a space of two weeks. At Basam Trade we believe everyone can achieve with the right guidance and dedication.
Mr. Saviour I. A student among the first batch of students we mentor showed us this two weeks after the class where he has a trader with $286 and turned to $1900 in three weeks.
If you are having an issue checking out just check via Paystack directly
Note: Paystack is a Stripe own payment processor so its very secure